On Wednesday morning, I had the pleasure of participating in an
Urban Land Institute
event in Century City. Here is a photo of my panel. As you can see, I'm sitting on the far right and dressed more casually than my peers. I'd like to participate more in these "public intellectual" events in LA but I need them to be close to Westwood because I don't drive and I don't like to be stuck in traffic. It is my impression that UCLA faculty do not spend enough time talking to "real people" and firms located in LA.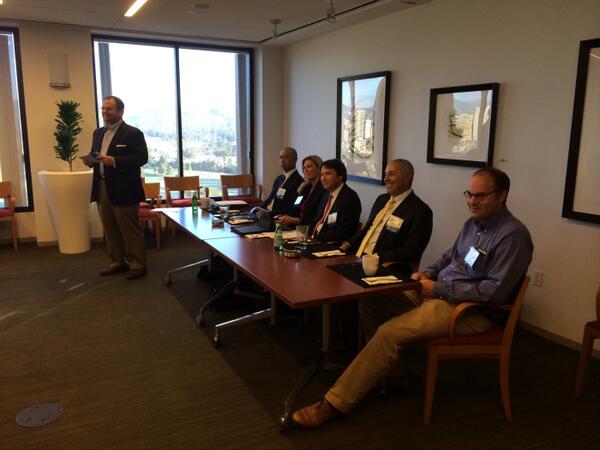 Here is the set up for our panel;
California's water supply is seriously dwindling. The first three months of 2013 were the driest on record and reservoirs in Northern California, which supply the majority of water for Southern California, are at frighteningly low levels. And it isn't expected to get any better soon. Studies also show that Southern California's other major source of water, the Colorado River, will not be able to keep up with the additional demand as a result of drought, population growth and climate change. And while commercial real estate accounts for approximately 12 percent of water use, it does not diminish the fact that there is a need for smarter, more efficient use of water in the built environment.
The March ULI StimULI breakfast will delve deeply into the availability of water in California. Among the issues to be addressed by our panel of experts include:
What, if anything, has been done to prepare for the drought and insure Southern California has sufficient water in the future?;
What regulatory/legislative requirements and/or mandates lie ahead? and;
How does California adapt to a hotter/dryer future?
Participants
Matthew Kahn, Professor of the Environment/UCLA
Brandon Goshi, Manager of Water Policy and Strategy, Metropolitan Water District
Tracy Rafter, CEO/Los Angeles County Business Federation
Richard Restuccia, Director of Water Management Solutions/ValleyCrest Companies
Eric Garner, Managing Partner and Water Rights Attorney; Best, Best & Krieger
As you can imagine, I returned to my Climatopolis themes of raising water prices, allowing farmers to sell their water to urbanites and encouraging conservation and innovation through the price mechanism. I am consistently amazed by the unwillingness among many environmentalists to allow market forces to work. The good news is that even media outlets such as the New York Times are sobering up and regularly having OP-ED writers discuss the importance of raising water prices to reflect scarcity. For example read Mark Bittman's reasonable piece.